Photographers are welcome to use the farm for taking photos with the purchase of a $100.00 use permit. Permits may be obtained by calling Paula before you are headed to the farm at 918-272-9445.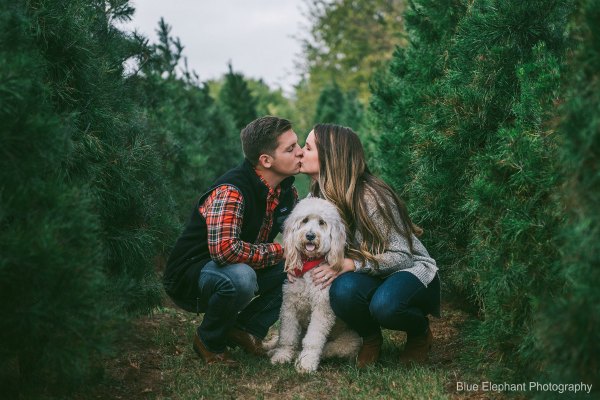 Photography Farm Rules:
No Photographers after November 17th.  Photography may resume December 23rd.
Your permit is good for one season and must be displayed each visit when you are working.
Do not remove tags from trees. The trees are tagged numerically for our customers convenience and farm efficiency.  If one tag is removed from its numerical order it plays havoc at the farm.
Please ensure that clients have your direct contact information. The farm is 40 acres, so they'll need an easy way to find you when they arrive. Owasso Christmas Tree staff is not responsible for directing clients to your photoshoot location.
Please be aware that multiple photographers and their clients will likely be onsite during your booked session. Please be professional and courteous. There are 40 acres of beautiful property to work with.
Owasso Christmas Tree Farm is a fully-operating farmstead. Please take into consideration weather and the natural environment as you and your clients prepare for your visit with us. Boots or close-toed shoes are highly recommended. Dress for the weather!
Vehicles are not allowed in Christmas tree fields under any circumstances. All props, furniture, etc. must be carried to your photoshoot location. We recommend bringing a wagon to transport props or other items. Large props need to be approved by the Staff.
The photographer and all photographer's clients will hold harmless Owasso Christmas Tree farm for any injuries sustained during photography sessions and is not responsible for injuries that may occur from poses or requests by photographer during sessions.
We ask that all children under 12 years of age be accompanied by an adult at all times. Please do not allow children to throw rocks. Rocks are hard on lawn mowers.  We keep the farm mowed and manicured for everyone's enjoyment.
Dogs are allowed on the farm, but must remain on a leash at all times. Waste must be removed and disposed of properly.
Please email if you have any questions: lesliehorry@cox.net
You may also call the above number and Paula can answer your questions.